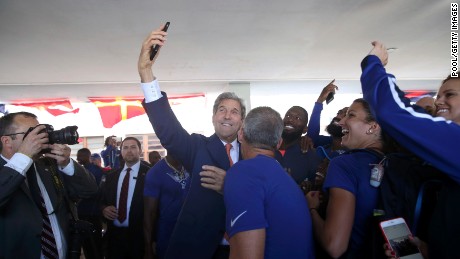 Washington (CNN)Much of the world is marveling at the athletic feats at the Olympics in Rio — including President Barack Obama.
Obama expressed support for three of America's most iconic athletes at this year's games in a tweet posted Sunday evening to his official POTUS account, shortly after the US won its 1,000th gold medal in Olympic history.
"Final win for Phelps. World Record for Ledecky. 3 #1 finishes for Biles. That's how #TeamUSA gets America to 1000 golds-way to make history," the President tweeted.
Obama also tweeted support for Team USA earlier in the week, "Ready to root on #TeamUSA! Our team's unity and diversity makes us so proud — and reminds the world why America sets the gold standard."
Vice President Joe Biden also tweeted last Sunday about the games, and wished basketball player Elena Delle Donne good luck.
"Good luck @De11eDonne and @usabasketball on your game today. #USABWNT #Rio2016" Biden tweeted, followed by, "Always proud of you @De11eDonne. A leader on and off the court and an inspiration to many. Proud you represent Delaware and the USA #Rio2016."
Neither Obama nor Biden accompanied Team USA to Rio. But Secretary of State John Kerry did join the athletes and was present for the opening ceremonies.
The United States took home
its 1,000th gold medal
when swimmer Simone Manuel won her 100m freestyle race on Thursday, becoming the first African-American woman to win an individual gold medal in swimming.
And the praise for US swimmers bipartisan. Former Senate Majority Leader Bob Dole on Sunday voiced his support — and wryly offered career advice to Phelps.
"Congratulations @MichaelPhelps on a total of 28 career Olympic medals. I'm still working at 93, so I think retiring at 31 is a bit soon!" tweeted Dole, the 1996 GOP presidential nominee.
Read more: http://www.cnn.com/2016/08/14/politics/president-obama-tweets-rio-olympics/index.html